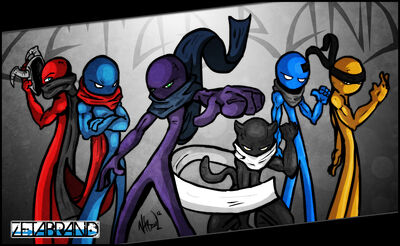 Zetabrand (zeta) was founded by Nhazul and Tentionmaru on Fluidanims.
They had many adventures together and fought many foes and evil RHGs. being inspired by DragonBallZ, they all have defferent super saiyan forms and invented a new style of stick figure. They started the path of freedom for all RHGs.
They later it broke off of Fluidanims after Nhazul sparred with Andre for his right to lead his own group of Rock Hard Gladiators
All of the zeta members have a sign of style and awesomeness. This RHG Clan has a few OP RHGs and they are really cool :3  visit them here zeta youtube channel  zeta facebook page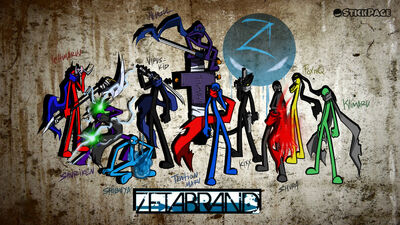 main members: Nhazul , Tentionmaru , Ichimaruu , Kixx , FoxnQ , Shibuya  and there nemesis Descrye

MOTTO: LET'S ROCK
THEME: Over the top, Stylish, Brash, Intense, We shoot for cool, and there is no shame in it
After the merge they inspired more RHGs to join them, and continue to do so. Such RHGs known as VirusKid, Shuriken, Klimaru, Shura (dracko)
Feel free to checkout the links to their DevianArts
Nhazul  Tentionmaru  Kidkei  Shibuya  Kixx  ichimachuu
Ad blocker interference detected!
Wikia is a free-to-use site that makes money from advertising. We have a modified experience for viewers using ad blockers

Wikia is not accessible if you've made further modifications. Remove the custom ad blocker rule(s) and the page will load as expected.