We all know about
S.W.A.T
the regular game but what you don't know about is SWAT the Awesome edition! This is DLC for the game and it cost $0.99, you should buy it for more guns, more zombies, more chances of winning and instead of only using
Jack Sparks
,
John S Miles
, and
Vinnie
are now playable characters. I hope you enjoy this game, well you should because its an edition that's frigging awesome!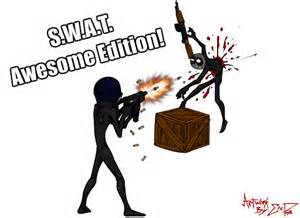 Ad blocker interference detected!
Wikia is a free-to-use site that makes money from advertising. We have a modified experience for viewers using ad blockers

Wikia is not accessible if you've made further modifications. Remove the custom ad blocker rule(s) and the page will load as expected.