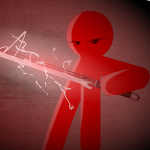 Red Blade

Status

Active

Gender

Male

Color

Red #DB0202

Weapon

Lightning enhanced soul sword

Abilities

super speed, thunder and lightning manipulation, swordsman, ninja

Formal State

Original, Over Powered RHG

Creator

Mark XD
Red blade is a original Rock Hard Gladiator and a lightning ninja created by MarkXD from Stickpage. It is said that he was inspired FLLFFL and Jomm. This rhg got his sword from an ancient chinese temple along with a dragon scroll that apparently gave him superhuman abillites. He manipulates lightning in his favor and is capable of disintegrating anything with electricity or thunder in which he generates from his sword and is therefore weapon dependant, in his first state. Yes, Red Blade has a transformation sequence similar to that of Tentionmaru, in which he tranforms into a "lightning master". In this state his weaknesses varies from explosive attacks and water to being seemingly unknown, he regenarets from any damage and becomes one with his soul sword, having full control of his element. Red Blade also likes Faziri and has recently become a member of Crysis.
Find his animations here

Battles
Ad blocker interference detected!
Wikia is a free-to-use site that makes money from advertising. We have a modified experience for viewers using ad blockers

Wikia is not accessible if you've made further modifications. Remove the custom ad blocker rule(s) and the page will load as expected.