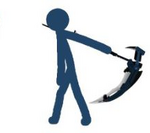 Oryza

Status

Active

Gender

Male

Color

Dark blue #224466

Weapon

Gun blade, Hybrid sword, Gun Scythe

Abilities

Super speed, combo master, acrobatics, swordsman, gun fighter, Energy Attacks

Formal state

Original RHG

Creator

Guz (Gus Yoga)

Aliases

Yuzas, GuzFA, Doggoz
Oryza is a supreme fighter and a stylish Rock Hard Gladiator who emerged during the last year of Fluidanims. He is known to be a jack of many triads. He has thought and inpsired many RHGs in fighting, and has trained with the best. Oryza's speed and style is similar to that of, Aero and Ada. Not much is said about him other than, "He was just an ordinary man, but he was given his strength by his master and joined the RHG".
Battles
vs Mist - WIN
vs Azazel - LOST
vs Red blade - LOST
Ad blocker interference detected!
Wikia is a free-to-use site that makes money from advertising. We have a modified experience for viewers using ad blockers

Wikia is not accessible if you've made further modifications. Remove the custom ad blocker rule(s) and the page will load as expected.