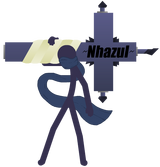 Nhazul is a purple
Rock hard Gladiator
with a blue scarf, a very intense popular stickman, and was featured as a 
Top Stick
 and was a fighter in 
Fluidanims
. He an elite ninja swordsman with immense strenght and agility. He is best budds with 
Tentionmaru
. Nhazul is also the leader of 
Zetabrand
 and carries a large 
jetpack cross
 that 
sheathes his blades
, (sword in the top & two daggers in the side). His cross can also be used as a heavy weapon or a shield.Nhazul is all about 
intense accelerated attacks, force and lightning fast dashes and his arch 
nemesis is 
Descrye
.
Holy Blaze: Nhazul's energy/element (fire). This fire energy can be harnessed into any one of his weapons. It can also be harnessed into his feet and fists and be thrown out as energy blasts. Nhazul holds a plethora of signature special attacks within this element. DO NOT underestimate the power of his flames.
Battles
Ad blocker interference detected!
Wikia is a free-to-use site that makes money from advertising. We have a modified experience for viewers using ad blockers

Wikia is not accessible if you've made further modifications. Remove the custom ad blocker rule(s) and the page will load as expected.