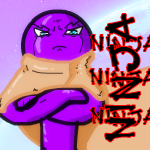 Kaizen

Status

Active

Gender

Male

Color

#9800FF

Weapon

katana (occasionally)

Abilities

Master ninja, swordman, Dōjutsu, speed,

Formal State

Over Powered RHG

Creator

Kaizen
This a new generation Rock Hard Gladiator, originated from Stickpage. Kaizen is a badass violet stickfigure, who wears a brown lead cape. He was inspiried by Zetabrand and is respected for being able to spar an hold up with tention and nhazul. He can use his Dōjutsu to perform many task, aslong as he has enough chakra, he can create clones and can also summon an apocoliptic astriod to crush opponents/enimies/armies that may be in his way.
Kaizen may look scary and evil but he is a cool guy. He is also very though and not to be messed with. He is usually seen hanging out with Crysis RHG Clan and is best buds with Samy ichiro.
Battles
vs Cruel - WIN
vs Sans- WIN
Ad blocker interference detected!
Wikia is a free-to-use site that makes money from advertising. We have a modified experience for viewers using ad blockers

Wikia is not accessible if you've made further modifications. Remove the custom ad blocker rule(s) and the page will load as expected.