Jase is a very cool and popular black stickman who wears a blue hat backwards like a gangster he is popular for appearing in the Killing Spree series he is portrayed by Sprear in Killing spree he walks around killing random people with a chainsaw. He also appears in the Dark Park series but is pushed into a deep hole by the killer in the series but luckily he survives though.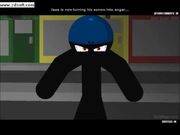 Ad blocker interference detected!
Wikia is a free-to-use site that makes money from advertising. We have a modified experience for viewers using ad blockers

Wikia is not accessible if you've made further modifications. Remove the custom ad blocker rule(s) and the page will load as expected.