Glowstick is thought to be an alt of
Glow
. GlowStick is really powerful and knows how to fight. He always glows. He can even light his opponent up so bad that they glow too and explode. He is not a part of the
Rock hard Gladiators
as he just fights regularly. He has beaten Glow in a sparring match once too. This stickman is pretty cool as he is also in 3-D. Everybody likes him because of how cool he is.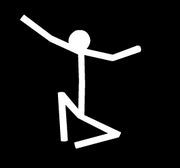 Ad blocker interference detected!
Wikia is a free-to-use site that makes money from advertising. We have a modified experience for viewers using ad blockers

Wikia is not accessible if you've made further modifications. Remove the custom ad blocker rule(s) and the page will load as expected.