Echo is a visitor of the
Rock Hard Gladiators
but she is also part of them she is an RHG who defeated
Chuck
in a battle. She is also pretty looking and is tall and pink and young. She can also multiply which makes her dangerous. After the battle she ran but Chuck followed her because he liked her and had a crush on her. Then a car was on the road and it hit Chuck then he flew onto the ground. Chuck revealed that he liked Echo to her. Echo said "I'm so glad your ok" she kissed Chuck. So now I guess they are dating..., well more like they were dating because later Echo died.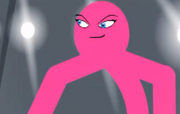 Echo

gender

female

abilities

multiplying her self

color

pink

occupation

none

First appearance

RHG Chuck vs Echo 2010

Boyfriend

Chuck (romantic interest)

Status

dead
Ad blocker interference detected!
Wikia is a free-to-use site that makes money from advertising. We have a modified experience for viewers using ad blockers

Wikia is not accessible if you've made further modifications. Remove the custom ad blocker rule(s) and the page will load as expected.