This is a game where you play as
Mike Holiday
and these people try to kill you. There are options to attempt to kill the enemies but all of them make you die in style except one which lets you actually kill everyone. Good look finding it. Try all the ways getting killed first then try surviving.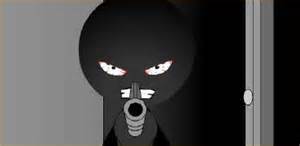 Ad blocker interference detected!
Wikia is a free-to-use site that makes money from advertising. We have a modified experience for viewers using ad blockers

Wikia is not accessible if you've made further modifications. Remove the custom ad blocker rule(s) and the page will load as expected.