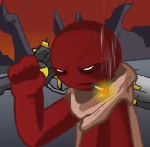 Descrye

Status

unknown

Gender

Male

Color

pale red #992B2B

Weapon

Gun blade

Abilities

regeneration, gun fighter, swordsman

Formal State

Original Character

Creator

Nhazul (Matt Benedict)
Descrye is a pale dark red stick figure with a pale scarf. He has a smoking habit and is happily deluded by anger, he has a personaily of that similar to deadpool >:3
He is an evil vilain and foe to Zetabrand and an arch nemesis of Nhazul.
Descrye seeks to over through Nhazul and become the untimate fighter and perhaps a new leader of Zetabrand. But all attempts so far has failed


Descrye's has a gun blade weapon and an unique ability called cellular regeneration. This means some parts of his body can repair themselves quite well after injury. His only weakness is fire.

Appearances
Ad blocker interference detected!
Wikia is a free-to-use site that makes money from advertising. We have a modified experience for viewers using ad blockers

Wikia is not accessible if you've made further modifications. Remove the custom ad blocker rule(s) and the page will load as expected.