This is a very fun and hard strategy game that is the sequal to Combat Tournament. It is really popular! And come with 2 new playable characters! Crazy Jay and Mr. Red and some new DLC such as Sticky and Andre the Giant. Anyway you can also play as original fighters your used to such as Double Range, Mr.Slaptastic, Home-Run-Bat, Andre, YoYo, and Ninja this game came out in 2011 the first one came out in 2010. So anyway its really fun you choose one of these 10 characters then you enter them in the tournament and per match you have to kill everyone and then you advance. Trust me you'll like it, its fun!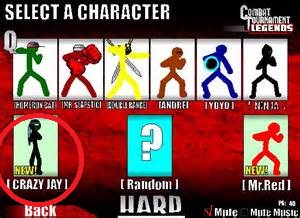 Ad blocker interference detected!
Wikia is a free-to-use site that makes money from advertising. We have a modified experience for viewers using ad blockers

Wikia is not accessible if you've made further modifications. Remove the custom ad blocker rule(s) and the page will load as expected.