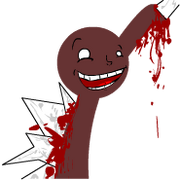 Calcium

Status

Retired

Gender

Male

Color

Pale Brown #663333

Weapon

(none)

Abilities

regeneration, bone manipulation, Spike Protrusion

Formal State

Original RHG

Creator

dakillon (Bidon Daniel )
  Calcium is a tall brown stick figure created by Dakillon, he was one of the first generations of rhg on Stickpage. Calcium is a fun filled psychotic looking RHG. He loves to make jokes before killing his opponents, he is not very skilled in combat and gets distracted easily. He tries his best to save lives and help people in danger.  Calcium's friends were Kayo and Lash.
Calcium has a pretty unusual power, he can control and generate bones, retract claws and shoot bone spikes. In battle, Calcium would release a bone/s to use as weapons. His art is RAPE!!! and he has no problem loosing bones or blood, as he has the ability to regenerate. However, generating to much bones can be exhausting in a fight, and can weaken him. visit his anims here
Battles
vs RESH- LOSS
vs Cobalt - LOSS