Boris Halsech is a stickman killer who makes his appearance in
Stick Figure Suicide
. He appear in the option "Get killed", where he killed Ron Harris by shooting him. He also appear in "Pee", where after Ron finished peeing on the cliff, Boris smash his skull open with a a baseball bat.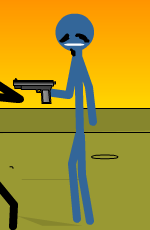 Ad blocker interference detected!
Wikia is a free-to-use site that makes money from advertising. We have a modified experience for viewers using ad blockers

Wikia is not accessible if you've made further modifications. Remove the custom ad blocker rule(s) and the page will load as expected.